The exhilaration of driving is one of the most intrinsic feelings in our modern, fast-paced world. Fulfilling that basic need for speed and satisfying the desire to roam freely is why we have such a love affair with all things automobile. Unfortunately, when it comes to aesthetics, not every car is made to the same exacting specifications. Typically, car design is made to be eye catching, but sometimes there have been a few cars that catch the eye in all the wrong ways. Some classic cars that fit this bill are the horrendously angular Buick Elektra, the garish 1973 Austin Allegro, or even the notoriously dumpy 1980 Oldsmobile Omega. Historically there have always been ugly cars, but what are the ugliest cars on the road today? After scrutinizing over all of the cars on the road today, here are the 15 ugliest cars we discovered.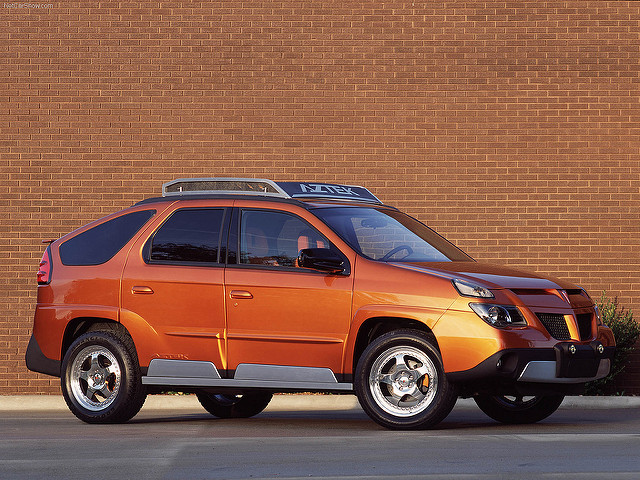 Photo by ofuturodocarro
1. Pontiac Aztek
Though Pontiac officially closed its plants back in 2009, this car managed to secure a bit of a legacy for those familiar with the television series Breaking Bad. The go-to vehicle for much of the series, the Aztek's odd angles and ugly crossover styling made each scene that it was featured in memorable. The car is available in an array of primarily garish colors, from burnt sienna to an almost broccoli colored metallic green. Shape-wise, the Aztek also featured strangely angular front wheel wells and a relatively squat front grill, which featured the design aesthetic of Pontiac at the time. The whole design package of the Aztek; unfortunately, makes the crossover look like something one might find in a dystopian kitchen. Many attribute the unsightly appearance of the Aztek to the eventual downfall of the 84 year old automaker that produced it.