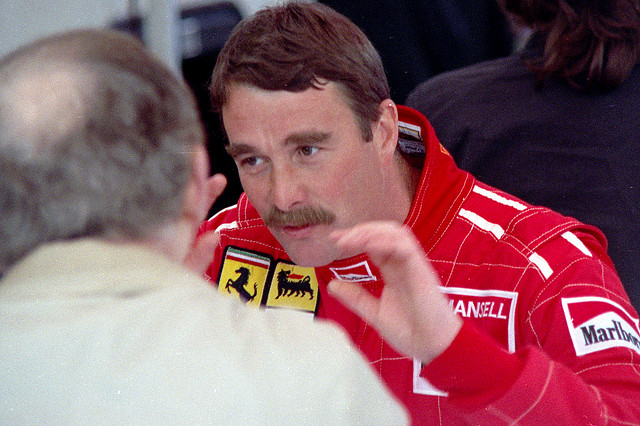 Photo by StuSeeger
Nigel Mansell
Nigel Mansell is a retired British racing driver who won both the Formula One World Championship (1992) and the CART Indy Car World Series (1993). Mansell was the reigning F1 champion when he moved over to CART, becoming the first person to win the CART title in his debut season, and making him the only person to hold both titles simultaneously.
His career in Formula One spanned 15 seasons, with his final two full seasons of top-level racing being spent in the CART series. Mansell is the second most successful British Formula One driver of all time in terms of race wins, with 31 victories, and is seventh overall on the Formula One race winners list behind Michael Schumacher, Alain Prost, Ayrton Senna, Sebastian Vettel, Fernando Alonso, and Lewis Hamilton. He held the record for the most number of poles set in a single season, which was broken in 2011 by Sebastian Vettel. He was rated in the top 5 Formula One drivers of all time by longtime Formula One commentator Murray Walker. In 2008, Entertainment and Sports Programming Network put him in their top drivers of all-time. He was also ranked No. 9 of the 50 greatest race drivers of all time by the Times Online, on a list that also included such drivers as Alain Prost, Ayrton Senna, Jackie Stewart, and Jim Clark.
Mansell raced in the Grand Prix Masters series in 2005, and won the championship title. He was inducted to the International Motorsports Hall of Fame in 2005.