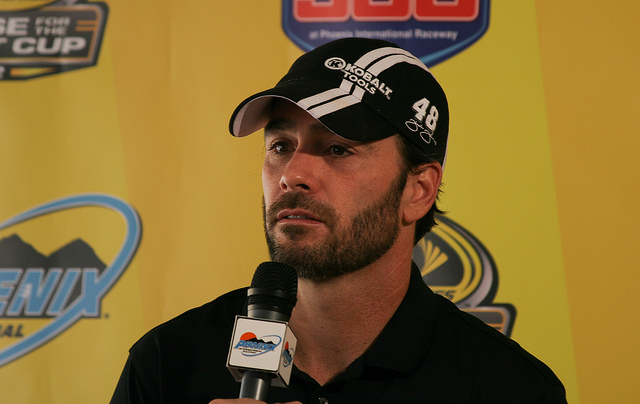 Photo by AmyKay1974
Jimmie Johnson
Jimmie Kenneth Johnson is an American stock car racing driver and a six-time champion in the NASCAR Sprint Cup Series. He drives the No. 48 Chevrolet SS for Hendrick Motorsports.
Johnson won his first Cup series championship in 2006 and with further wins in 2007, 2008, 2009, and 2010 became the only driver in NASCAR history to win five consecutive championships. During the 2011 season, Johnson finished sixth in points, while he finished third in 2012. In 2013, Johnson won his sixth championship, one fewer than Richard Petty and Dale Earnhardt, who have the record for the most championships. Johnson is also a two-time Daytona 500 winner, with victories in 2006 and 2013. Between 2002 and 2015, Johnson has recorded six championships, 72 wins, 292 top-tens, and 33 pole positions.
Johnson became the first racing driver to become Associated Press Male Athlete of the Year (U.S.) in 2009, and has won Driver of the Year five times, most recently in 2013. He also topped Forbes.com's Most Influential Athletes list for two consecutive years (2011, 2012). Johnson is also the only driver to have qualified for the Chase every single year since its inception in 2004.